Went to the Public Garden Flea Market held at the F1 Pit Building last Saturday and it was funnnnn. :)) I love flea markets; well, shopping of any kind, but what I like about flea markets is the thrill of tossing, flipping, scavanging through piles of items, really not knowing what you'll find. It could be old stuff, cleverly marketed as 'vintage' (since everything 'vintage' is an immediate sellout), painstakingly handmade items from independent sellers, quirky and creative accessories or lifestyle pieces from boutiques whose owners have decided to set up stall in the flea market, and so much more. Oh, I forgot to mention FOOD. This particular flea market had all of the above so I was very pleased. :D



Cupcake shaped pin-cushions that look good enough to eat! Good thing they had the warning sign stuck in? And they even come in their own adorable porcelain cupcake holders. Makes me want to take up sewing.




Pretty pins made by the owners of the same stall! Here's a link to their facebook page, My Sweet Desire.



I like how this particular stall was so dressed up. I remember when my friends and I tried selling our stuff a few years back (or was it just last year) at another flea market and it was not QUITE so successful; possibly because we didn't put in much effort to decking the stall up. This one looks quaint indeed.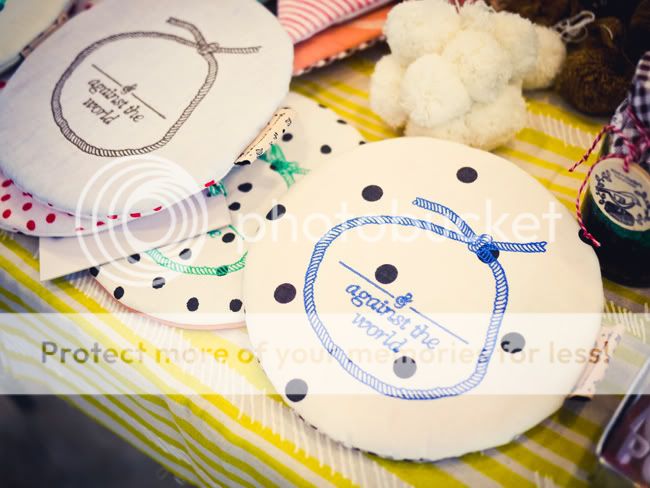 Cutie little (some were HUGE) water droplet pouches from the seller, Mimi Pong! I think these are simply adorable. MAYBE I shall get one for my sis one of these days since she's a huge fan of Water Wally, the err Public Utilies Board (PUB) mascot. Lots of other really darling items from this seller's online shop,
HERE
.
An interesting stall was this one by local artist who goes by the name of Messy Msxi and suppose this stall can be thought of as an artistic statement of sorts. It's entitled "Breakfast Barter" and basically, you get to draw out a breakfast (can be your favorite or any random one; some people were cute and drew a dog's breakfast instead, dog included in the picture) on a template given and in exchange, you get a pretty polaroid picture of a breakfast that was probably taken by the artist herself. At the end, all the drawings were pasted on a nearby wall and while even her helpers weren't sure what the end result was going to be used for, it was interesting seeing what others drew out and how detailed/creative they could be.
3D globes from the store, The Occasional Traveller. I was checking out the items and overhead the owner talking to another customer about how she calls herself "The Occasional Traveller" because she doesn't get to travel as much as she would like to but one day she hopes she'll become "The Frequent Traveller". :) To think that there are so many intrepid souls out there just dying to get away to explore this huge world of ours. Most people leave travelling till after they're retired but in my opinion, that's a little too late. After all, what if you never retire!!! (dun dun dun!! *scary music) Yeah, just to get ya thinking yoz. Check out her website (which is also a great read)
HERE
.
Delicious looking cupcakes!! I love how the labels have such elegant font and are all stuck on tall satay sticks that way. Gives it a touch of class, no?
One of the best stalls I came across!! :D Alter:sg is a small independent publication from a few like-minded individuals who came together to produce a guide book of all their favorite, less-touristy and more down-to-earth spots of Singapore. I'm ALL FOR THIS because really, I do think there are so many places that are worth exploring and appreciating in Singapore. No point bemoaning the fact that it's small and boring compared to other major cities. It's something I used to do so often but really, might as well make the best of what we have and look a little closer at the place we call home right? Go to their website
HERE
to find out more and you can get a copy of their book too! Though I recommend reading it on say, a Friday night, because after flipping through it you'll want to go exploring immediately so at least that way you have the whole weekend ahead.
The super friendly brains behind alter:sg who were nice enough to let me take a quick snap of them and their booth.
HEH. I thought these items were GENIUS.
On the left: Crumpled City Maps also sold by The Occasional Traveller. Quite a good idea because these maps are made of some special material so it doesn't tear easily and you can crumple it up/get it wet/fold it in any number of ways and it'll still spring back to a pretty flat state for easy reading.
On the right:
A company called
Epigram
sells all these AWESOME books. I think this probably applies to many people? :) They all have the same sort of structure to the quotes. I am not XX. I am XX (something cooler or more truthful). I got another one for my friend which says, 'I am not high. I am just happy'. Of course, you can guess which one's the truth.
I ended up meeting my sis and a few of her friends there as I was leaving but then I conveniently mentioned that there was ice cream being sold there and we all ended up eating VEGAN ice cream. >:) It really was kinda tasty! Better than vegetarian meat which is absolute rubbish. The vegan tastes good probably because it also makes you feel less guilty since there's no butter/milk...but brown rice something inside there instead. So yes, these things do exist and are worth trying... after which you'll probably realize that if you're meant to like the

real thing

, you're meant to like it.

For more info on the Public Garden flea market, you can check out their website HERE. :D Totally looking forward to the next one.
On a side note, this weekend was pretty great. Am kinda sad that tomorrow it's going to be Monday morning again...BUT this weekend was a great one of absolutely zero studying, and I managed to meet up with great friends, eat a ton of great food, and attended my first-ever jamming session which was FUN STUFF. Kinda like a different version of Kbox. :D What did you do this weekend? Xx Here's wishing everyone a great week ahead. 5 more days till the next weekend!