MERRY CHRISTMAS, EVERYONE! :D Here's wishing you guys a very belated Merry Xmas. December has just come and gone in practically the blink of an eye! It's been a tiring, busy busy month but you know what? It's been punctuated with so many fun moments - lots and lots of GOOD FOOD with friends and family... as much baking as I could sneak into my schedule without feeling overly guilty about not spending that same time studying...meeting up with people who've come back from overseas for holidays...and just feeling Xmassy and happy all round whenever I look at the decorations at Orchard Road or listen to the Xmas songs that are on a loop at the supermarket whenever I hop in for grocery shopping. :D It's all the small things that add up to a nice Christmassy feel. Can't quite believe that it's over already :( BUT on the bright side, there are many more Christmasses to look forward to AND one can never stay too sad about the passing of Xmas and the New Year because there's always Chinese New Year to look forward to! In fact, I wouldn't mind celebrating as many holidays as possible because then there'd always be something to look forward to. One of the things I love most about SG would have to be the number of public holidays contributed by the different racial groups. Moaaaarrr please.
This year I had a nice long list of things I wanted to bake during the Xmas season and I'm proud to say that I managed quite a number of them! :D If you must know, the list included things like:
- ginger snaps
- gingerbread men
- strawberry linzer cookies
- matcha shortbread cookies
- regular shortbread cookies
- christmas stollen
- christmas cake
- cranberry and pistachio biscotti
HMM now that I look through it, I only managed about half the list. I'll have to try the other half next year. I must say though that the verdict I've reached for this year is that the perfect Xmas cookies to bake are... SHORTBREAD COOKIES! For so many reasons -- 1. Who doesn't love and CRISPY, BUTTERY piece of shortbread cookie? It's one of my favourites! 2. The dough can be chilled and then rolled out to be cut in so many different shapes and sizes. 3. You can alter the flavour slightly by adding melted chocolate ;p yumyum 4. They are incredibly easy to decorate; in fact, they are kinda like basic sugar cookies except richer. In that way, you can add sprinkles, granulated sugar, layer frosting on top... the works. Here's what I did this year:
Ta-dah! :) It's a mini shortbread cookie Xmas tree! I ended up giving this to my Secret Santee (if there's such a word) as part of her present but it's pretty good to bake for any Xmas party as an edible piece of decoration.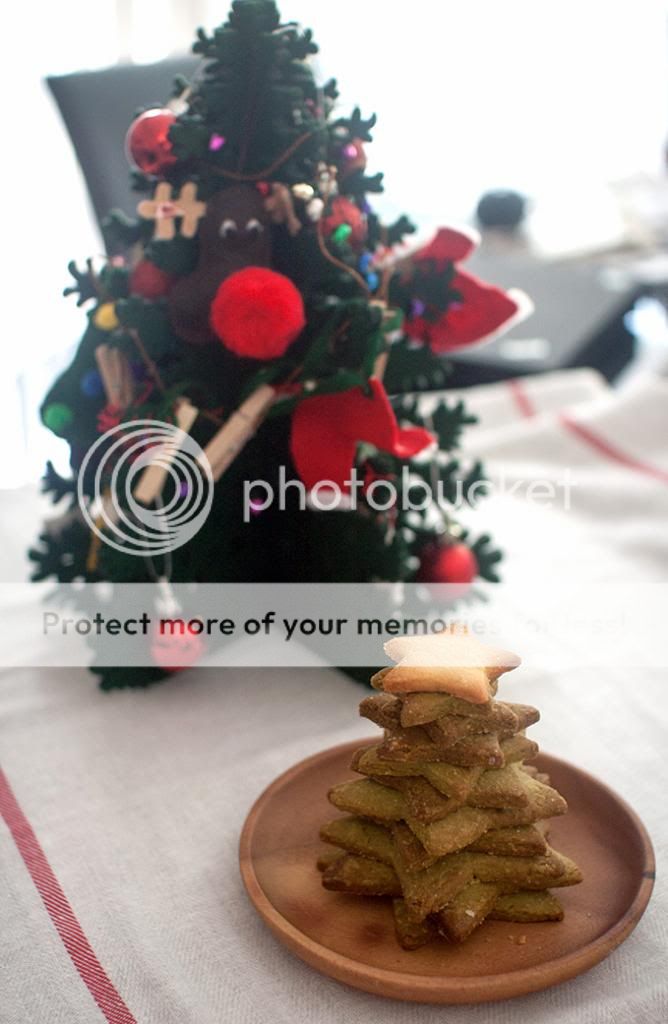 With the actual Xmas tree in the background... (Yeah, no real big tree for my family. ;p This mini one was from Muji and I quite adore it. Except for the fact that it was messily decorated with random ornaments I scrounged up from past Xmasses.)

AND, another way that you can jazz up these shortbread cookies which I seriously like:


Drizzling them with melted chocolate! :D This was the first time I tried it out and though it was rather messy, I like how it turned out semi-artistic...in a rather haphazard manner.




HERE'S the recipe for the shortbread cookies! It's almost the same one that I used for THESE MATCHA COOKIES awhile back but I had to edit the portion regarding the flour because it was really getting out of hand with the original proportions (way too little in my opinion).

CLASSIC SHORTBREAD COOKIES :D (adapted from Chocolate and Zucchini)

Ingredients:
- 100 grams of good-quality butter, softened (add 1/4 teaspoon of salt if you use unsalted butter)
- 50 grams of confectioner's sugar
- 1 egg yolk
- 1 and 1/2 cups to 1 and 3/4 cups of flour (as long as you get dough that is not sticky and easy to shape into a round disk to chill in the fridge)
- 40 grams finely ground almonds
- 2 tablespoons sugar, preferably an unrefined cane sugar in coarse crystals, such as turbinado or demerara for sprinkling on top (optional)

1. In a medium mixing-bowl, cream together the butter and confectioner's sugar with a spatula. Add the egg yolk and mix it in thoroughly.

2. In another bowl, combine the flour, salt and ground almonds and stir with a whisk to remove any lumps. Add to the first bowl and stir it in until the mixture comes together to form a ball; don't overwork the dough. Lightly shape the dough into a ball. Wrap in cling film and place in the freezer to firm up for 40 minutes (or in the fridge for 2 hours).

3. Preheat the oven to 180° C (360° F) and line a baking sheet with parchment paper. Roll out the dough on a well-floured surface till about 1/4 inch thick (it's easier to remove from the cookie cutter if it's thicker), adding flour to firm up the dough when necessary. Cut out your cookies with desired cookie cutter and place on parchment paper, about 1.2 inch apart.

4. Slip into the oven and bake for 12 minutes, or until the cookies just begin to turn golden at the edges. Let rest for 5 minutes on the baking sheet before transferring to a rack to cool completely.

For the drizzled chocolate effect: It's really simple! Roughly estimate how much chocolate you'd like on your cookies. Since for the pattern I wanted I just needed a teeny bit of melted chocolate on each cookie, I didn't need to melt very much chocolate. I'd say start with 1/4 to 1/2 cup of semi-sweet chocolate chips/bars and either microwave them (around 1 min for 1 ounce) or heat them over a water bath (bain-marie) until they're melted nicely. Let cool down for awhile till lukewarm (or whatever you're able to handle holding in a ziplock/piping bag) and then pour melted chocolate into a ziplock bag with a tiny portion cut off at the tip. Squeeze the melted chocolate out onto the cookies and just drizzle back and forth. Be sure to line the base of the cookies with baking paper so that it's not too messy! :) Then leave to cool.

Psst, just incase you missed it the first time...




:)

xoxo