Day 8 + 9

Remember I said in the previous post about how I REALLY wanted to try the fried mackerel? Well, I was SO CLOSE to getting it. Only thing was... my Japanese wasn't good enough. :'(( The next day we had to return our rental car by 12 noon back in Fukuoka which would be about a 3-4 hour drive. So if we wanted to get our fried Aji we needed to wake up early. AND WAKE UP EARLY WE DID. I'm usually not an early bird at all but for food...

So we actually got up at 6am and were in the restaurant close to 7am. The waitress was obviously surprised because we were the only non-locals in at such an early hour. When the time came to take our order, I said something to the equivalent of "AJI! PLEASE!" in Japanese, grinning like an idiot, thinking that that was the ONLY WAY an Aji could be cooked. We waited a while... but then Donald noticed that the fryer wasn't switched on. In my naivety I was all like, ohh maybe they are grilling the fish first THEN deep frying it! Still thinking my crispy fried Aji was along the way... Until the old lady chef presented our dishes and staring up at me was not the glistening golden pieces of deep fried Aji that I had sacrificed sleep for, but a whole mackerel simply... grilled. :( I was so sad I wanted to cry! But the old lady was smiling away and asking, "so how is it?" What else could I say but "delicious!", my heart bleeding away deep inside. LOL. Pretty hilarious come to think of it right? It was still a really delicious piece of grilled mackerel, I'll give you that. BUT. STILL.

Donald said that perhaps they don't actually sell fried stuff so early in the morning so maybe even if I had asked for it correctly it might not have been served anyway. ;/ You think?? SOBBB. I'd like to think so. But we'll never know until we go back there again. That said, I highly recommend you trying out this restaurant and opting for fried Aji the way the old fogies do. It has to be sublime.

So in conclusion, if you REALLY want something in a foreign land, you should present it in three forms - written, pictorial (I could've screen captured a photo of fried Aji and showed it to her), spoken (in its proper form). The things we learn through travel.

===

Anyway, back to our trip. Along the way from Kagoshima back to Fukuoka, we stopped by a really beautiful temple called Kiyomizu Temple in Miyama City (in Fukuoka). The most famous Kiyomizu Temple would have to be the one in Kyoto and I'm sure few have heard of this same-named one but this was really quite beautiful too.




Isn't the view amazing? This was the view from a special viewing room in the temple and apparently the entire garden had been specially manicured to allow the viewer the optimal view from the vantage point.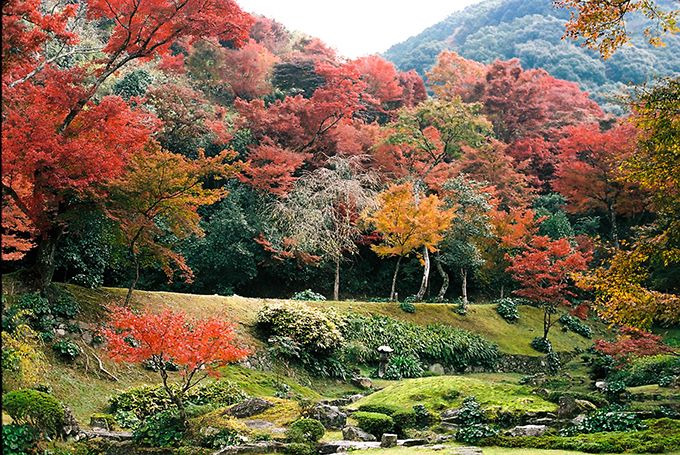 It was pretty funny because when everyone made their way into the room, it was all a flurry of 'ahhhh!! ohhhh!', followed by the snapping of photos, from regular digital cameras to more professional ones held by older people. It's amazing how many older Japanese people are really into photography; complete with all the hard core gear (tripods etc) + floppy sun hat to boot.

After awhile, a nun came in and started giving us an explanation of the temple and its grounds. She begin with something akin to, 'Settle down please! Let your hearts be calm as you enjoy the beauty of the scenery...' and after a brief introduction, she just had to end it of with, 'and NOW you may all take your photos!' which was followed by a ripple of sheepish laughter through the crowd. Heh. All tourists are the same throughout the world, even Japanese tourists.




After the next group of tourists entered, a venerable looking monk came in to give the introduction.




Then we made it back to Fukuoka in the nick of time!

I'll mix it up a bit and just go by general places that I would highly recommend checking out.

-----------

Tempura - Tempura Teishoku Senmon Daruma

We had been hoping for a nice tempura/soba place (ok, I had been craving for it and Donald was nice enough to go along for the headless search) so we decided to try our luck in searching for one. It had to be legit. Ideally, hole in the wall style with master chef quietly churning out his tempura and soba to ravenously slurping customers. I thought, shouldn't be too hard to find right? After all, in Tokyo, tempura/udon/soba shops are like a dime a dozen in any neighbourhood along with ramen shops. But NO. They aren't that common in Fukuoka. Or at least in Tenjin which was where we were at. But as luck would have it, when we almost reaching that delirious state from extreme hunger, we managed to spot the words Tempura on a sign across the street. So in we walked into a real cool old school Tempura shop with rows and rows of strips of paper taped onto the walls showing the items available. That was their menu. Was as legit as one could hope for. It wasn't too crowded and though it was old, the energy from the owners was palpable, right from the enthused, 'Irrashaimase!"

It was a little hard to find a proper page on google because I don't think they have a proper website but I did find something on foursquare .




It was the first time I'd seen tempura served on plastic dishes. Just seemed very old school and kind cute too. ;p That lurid green.




REAALLY CRISPY tempura!

I love these family businesses. I keep assuming they all belong to the same family but... they probably do right? When there's a middle aged lady/gentleman and a younger looking daughter... that's the most logical conclusion right? :D These guys were incredibly friendly and we so good about me taking photos.




As we were leaving, the chef allowed me to take a photo of him and even gave me his name card with an even cooler picture of him posing with a vat of deep fried tempura. I promised him I'd post it on Facebook which I already have but here's hoping it reaches more people so that you can all go pay him a visit when you go to Fukuoka. ;) Deal?

-----------

Coffee - Coffee Bimi




Coffee Bimi. A real haven for coffee lovers. Gods, I must have taken 10 + shots of this place and numerous repeated ones of the owner because I wanted to make sure I got at least one that was in focus. ;p It's a real gem of a cafe, with a quiet, cozy atmosphere, the heady scent of coffee from in-house roasted beans, and sturdy mid century furniture. It specializes in flannel filtered coffee which the owner churns out with such focus. Watching him was like watching a performance.




Best part of all? His really adorable uniform. I suspect the people there comprise of him, his wife (who chisels off ice from whole ice blocks for his iced drinks and helps him put out drinks) and his daughter (who mans the register and does the serving of drinks). And they all have matching, coordinated linen uniforms in quaint, muted colors with the occasional pop of color provided by a neck tie. Seriously, who came up with their awesome uniforms? I can't imagine any average middle aged person coming up with such great designs.




I had the iced coffee which was delicious (and I don't even drink coffee very much) while Donald had the classic black coffee. He said it was 'the best coffee' he had ever tasted. And this guy really likes his coffee. 'Nuff said.

Bookstore - Books Kubrick




Lovely bookstore we popped into along the same stretch of road as Coffee Bimi and a bunch of very unique stores (e.g. antique wares, local ceramics/handicraft stores).

Oden - Yasube

We went to a restaurant called Yasube, for our first taste of Oden (a type of Japanese hot pot/stew dish that is traditionally served in winter time). It's a little bit of a challenge to find because it's along a quiet alley so I'd recommend maybe Google-mapping it first to get a rough idea of its location. Miraculously we managed to find it despite its unassuming facade. The way some of these restaurants are built, you'd think they're purposely discouraging customers from finding it. ;p

It was such a great experience. Initially when we opened the door they apologized and politely turned us away because they said the restaurant was too full. I think to them they want enough customers to have enough room to enjoy themselves rather than be packed in like sardines even though they could definitely make more money that way. Isn't that incredible? Because we definitely saw a couple of seats available at some corners of the restaurant. But it speaks volumes of an establishment when they would rather compromise their profits than compromise of customer service and satisfaction. Luckily for us, two customers left the place not 10 minutes after so we managed to get a seat. It was a warm, cozy restaurant, yet another a family establishment with the dad as the chef, mum as sous chef and son as head server. :D We'd never eaten Oden before so I just asked the mum to give us a standard platter; whatever she could recommend, and she did.



I think the taste of Oden is meant to be light yet filling. The broth was good but extremely light. I think my taste buds are more used to the strong flavors of laksa/yong tau foo in SG but there's definitely something about the subtly of flavor that I could get used to in Oden.




Side dish of daikon.



The head chef in action.

On a side note, I find that certain chefs take on a particular posture when they reach master chef level. A case in point would be the Mee Pok Uncle (stall owner) at my secondary school. He definitely had some kind of arthritis/bad back going on because he was always sort of bent forward and his fingers were a little gnarled but you know what? They were perfectly suited to slicing meat. Left hand on a slab of meat, right hand holding on to the knife that would swiftly, even gracefully, slice through the meat, creating incredibly thin, uniform slices which he would toss into boiling water before adding it to his mee pok noodles. MMM. Just thinking about it makes me hungry. That was a bit of a digression but you get my point. After awhile, their bodies take the form most suited to their craft. This chef had a bit of a hunch that seemed all the more fitting as he bent over to check on the pieces of oden in the huge vat of broth, stirring occasionally, adding to it, removing pieces with his ginormous pair of chopsticks to be arranged artfully on a ceramic plate. It's a joy watching these chefs in action.



As we were leaving, the son, who probably could tell we were foreigners the minute we walked through the door, spent a bit of time kindly chatting with us to find out more about our travels. One thing I love about Fukuoka-ians is how they tend to be a very warm, curious and sincere bunch. He enquired about next stop and when we told him we were hoping to check out some Yatai (street food stalls) for supper, not only did he give us his analysis on the better areas for Yatai ("The Yatai over here is really expensive! Better to go to the other side to not get cheated"), he even gave us a map of Fukuoka city that was in Korean and might have been left behind by Korean tourists but suited us perfectly well because there were English translations as well.




2-17 Nishinakasu, Chuo-ku, Fukuoka


Do go here! Another highly recommended place.

Yatai




Walking along the canal at night, basking in the warmth of the street food stalls or Yatai.



Peek at the back of the stall.

Sigh, the last day we were there was basically just a mad rush of eating, shopping, walking around, trying to get as much more of Japan in as possible.

Cafe - Rokuyoutei



(taken with iPhone)

We did manage to find this amazing place for tea! While waking along Tenjin, we happened to spot a signboard which showed a bunch of really yummy looking Western dishes including french toast. This place was a few floors above ground and while pretty small, was VERY cozy and kid friendly. Lots of young couples with their kiddos taking their time for Sunday lunch. The food looked really tasty (kept eyeing the dishes that were being served to other customers) but too bad we'd discovered the place after lunch. So we decided on dessert which was French toast, Japanese style, with mochi and red bean toppings. Took forever to come, really, but when it did come, it was a sight to behold. Layers of crispy french toast literally soaked in BUBBLING HOT BUTTER in a hot pot, sizzling and crackling away. SO good with the generous scoop of ice cream on top. I would definitely go back there again for lunch and a relaxing afternoon.

----------

General Recommendations




When in Fukuoka, you must must go to the awesome neighbourhood of Tenjin. It's good a great vibe with lots of shopping (complete with your variety of department stores/malls and also the unique boutiques/shops which are so to explore)(apparently the biggest shopping area in Kyushu), cafes, and eateries. We stayed at Hakata which was convenient as it's one of the nearest stops from the airport by subway but Tenjin would only have been 2-3 mores stops down.




One place to check out would definitely be D and Department Kagoshima in Maruya Gardens. OOooooOo I could spend hours in there browsing through the beautifully crafted items. D-Department is an incredible company that focuses on Japanese design and has a whole series of travel guidebooks with a design edge. We referred a lot to the Fukuoka book while exploring and there were so many awesome places we didn't manage to check out yet! I'm sure they have D and Department stores in Tokyo, Fukuoka and other places which I would highly recommend checking out. ;)

Sigh. Ok I think that's about it for now. All in all, it was a really really great trip. :) I'm so thankful for every wonderful trip I get to experience. There were some definite post-travel blues upon coming back and returning home but then I always go back to this quote:


"How lucky I am to have something that makes saying goodbye so hard."
-- A. A. Milne, Winnie-the-Pooh.
Isn't that statement plain genius? Whenever something wonderful happens and we feel sad that it's over, isn't it always better/easier to instead, feel grateful that we had the privilege of experiencing it in the first place? :) I go back to that every time. Plus, we can also do the next best thing - plan and look forward to the next trip!
Btw, Happy CNY everyone! Hope everyone's having a wonderful, restful time with family and friends. I just had one of the best naps this afternoon in a loooooong time. OH yeah.
xooxoox