Day 3.

I remember when we first got off the plane and arrived at the airport in Fukuoka, it was the surprising cacophony of car honking that greeted us when we stepped out of the building to head towards the subway station. Perhaps it had come from cab drivers but WOAH there was some really aggressive honking that I didn't think was possible from Japanese drivers! ;) On hindsight, it definitely fits in with my impression now of Fukuoka-ians (if they can be called that) as being friendly, straightforward and extremely warm. Everyone we came across happened to be really friendly and of course, openly inquisitive about where we'd come from.

On our first night, we arrived at sometime past 9pm, kinda tired out from a whole day of walking around in Tokyo and mainly just hoping to come across some ramen place to fill our bellies but the options at the airport were limited. But as we walked from the station to the hotel, there weren't any restaurants we passed by and I remember thinking, oh man this is going to be a night of Lawson's random bento/onigiri takeaways (which wouldn't be a bad thing, really; given how yummy their convenience store food can be). BUT then, as luck would have it, 2 minutes into our search for food around the hotel, we came across a warm, cozy, busy Izakaya that was OPEN! I would highly recommend this place to anyone visiting Fukuoka. It's called Ten Sui An and is actually about a 5-10 minute walk away from the Hakata Station, unobtrusively tucked away in a quiet alleyway (as most great restaurants in Japan are, it seems). The staff were really friendly, the restaurant was brimming with that boisterous (maybe drunken), festive ambience and best of all, it was open till late at night.




Every dish we had was SO GOOD. Of course if helped that we were starving but seriously, the dishes were so super tasty. I loved the thin, crispy pieces of vegetable tempura. And since it was autumn, they included sweet potato which was delish!

Looking at the trip advisor photos, looks like the restaurant could be famous for its chicken mizutaki which is a famous dish in Kyushu.




I'm not too sure if that was one of the Mizutaki dishes because initially I had wanted something vegetables, so I ordered something in the menu that looked like it said Veggie Stew. Only I didn't notice the word Chicken right at the front. -_- Tasty broth nonetheless!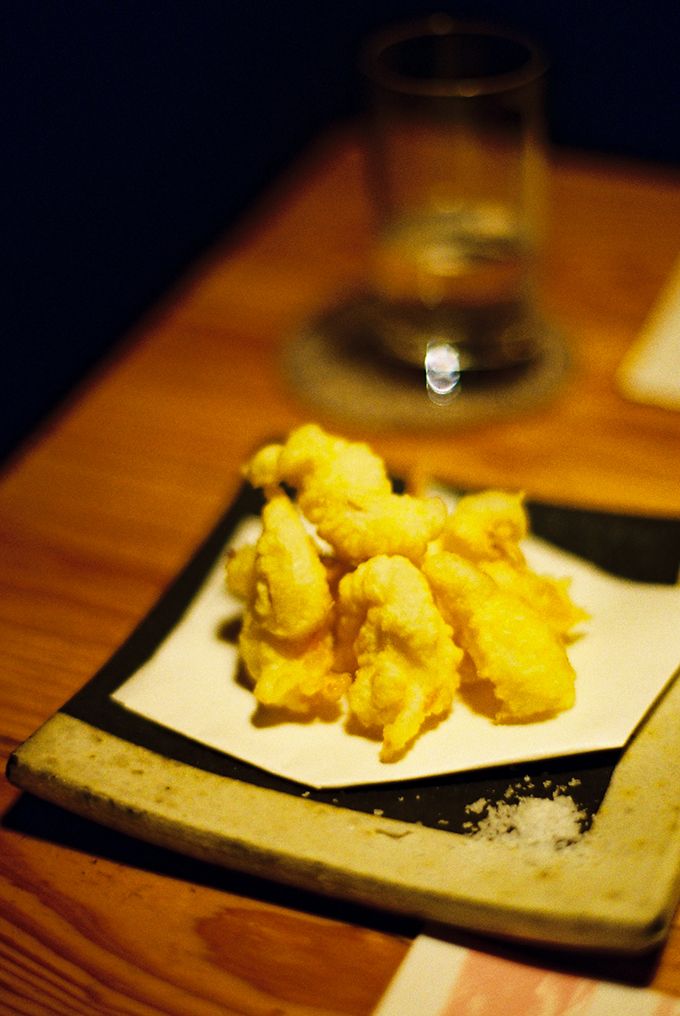 THIS. WAS. SO. GOOD. If you don't think much about what it really is and just eat it based on the taste, you'll definitely want to have more of it. I loved how crispy it was on the outside yet soft, mushy, rich on the inside. Of course, it's none other than Shirako (or fish *cough* sperm…) done tempura style. Moar please.

The next day, we went to this island that apparently is not even really known to locals, called Ainoshima. The reason we went there? It's known to be a Cat Island. And Donald has this insane fetish with cats. -_- So, yeah. For me it's dogs > cats all the way (esp cute Lab retrievers and French Bulldogs!!) but hey, what's a girl gotta do? It was definitely an adventure though. ;)

BUT before that, we had an insanely delicious lunch of Chazuke at a random restaurant on one of the upper floors of the Hakata train station.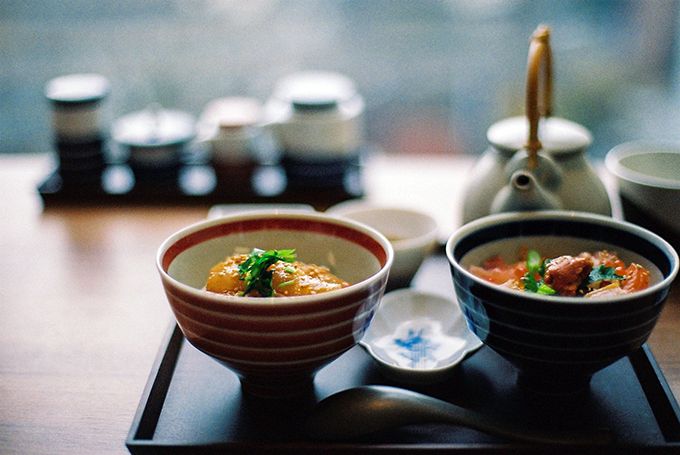 It was definitely one of the most memorable lunches I had on the entire trip because everything about it was fantastic. From the calm, elegant interiors of the restaurant, to the attentive service, to the sheer deliciousness of the dishes, to the speed at which the dishes came out to alleviate our hunger… Do try it. I can't remember the name of the restaurant but it should be easy enough to find once you reach the restaurant floor of the shopping mall above the train station. X) TEN OUT OF TEN, this place.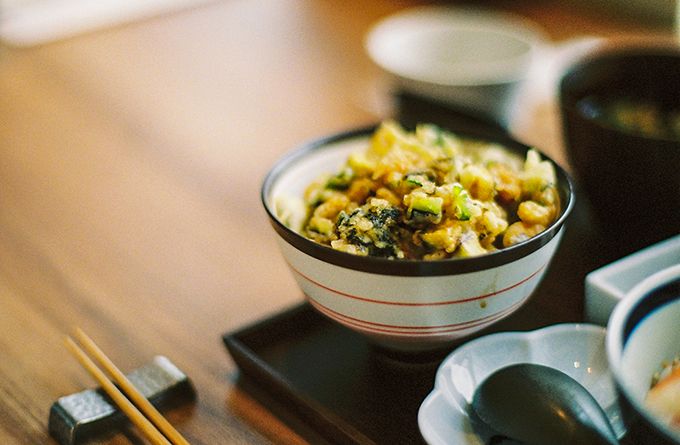 Beautiful. Deep fried Kakiage.




Heaaaavennnnnly.

After that, we started on our journey to Ainoshima. It really wasn't that long; maybe 1.5 hours in total to get to the island from Hakata train station. I would definitely recommend checking out this guy's blog post for a detailed explanation of how to get to the island. It definitely helped us loads and I'm amazed at the sheer amount of research he did along with the attention to detail.

BUT, we happened to discover an even shorter route on our way back.
In essence:
Using JR line,
Hakata Station - Fukkodaimae Station
There is actually a bus from Fukkodaimae Station that will take you directly to the ferry terminal.
But I have no idea what the bus number was. I'm sure it's possible to ask the staff at the station for advice though. It would be faster than going by this route which is the one given in his blog:
Using JR line,
Hakata Station - Chihaya Station
At Chihaya Station, walk to the other end of the station to take another line to go to -> Nishitetsu Shingu Station.
Bus from Nishitetsu Shingu Station will bring you to the ferry terminal.
If you are seriously considering going to this island and are confused about the directions, feel free to drop a line and I'll definitely do my best to help! ;) If you're a cat person, it's definitely an experience to have.
It just so happened that we missed the bus that would have taken us to the ferry terminal at Shingu. We were going to hop into a cab but as luck would have it, some random dude apparated out of nowhere and beat us to it. So we were thinking, dang, should we try to wait around for 1. the next bus 2. another cab to come along 3. walk to the ferry terminal based on the rather undetailed sketchy map of the island by the bus terminal? Guess which one we intrepid explorers picked. I suppose it's not so much intrepid as desperate. When you're whole day is about going to ONE place for ONE thing only... you do what it takes. So based on Donald's insanely accurate internal GPS, we started walking/running. And believe it or not, we made it to the port where the ferry happened to be waiting! It's about a 20 minute ride to Ainoshima and you can pay for your 2 way trip on the ride back (after buying your tickets from a machine in the tiny unmanned tourist information centre on the island).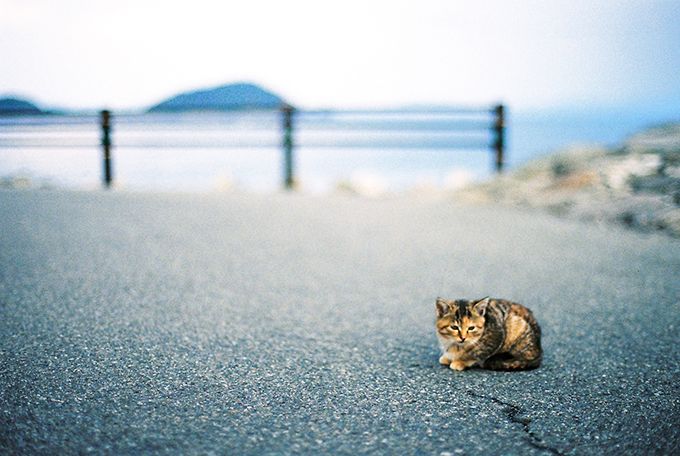 It's a very quiet island but I think it's not to the extent that cats outnumber people.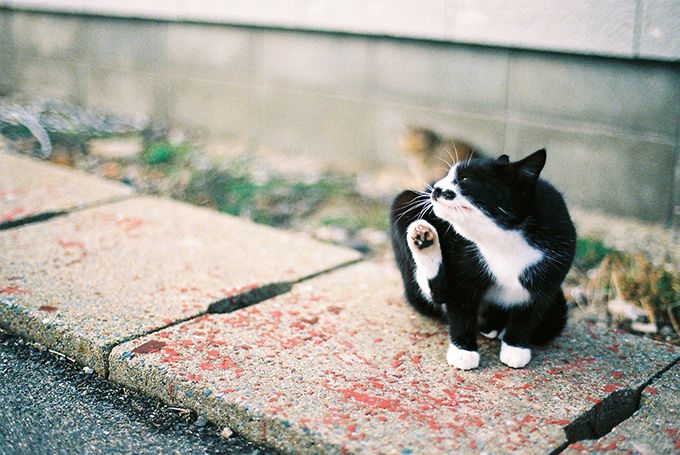 The cats were rather cute, I must admit, especially this Charlie Chaplin one that didn't always cooperate when I wanted to take his photo.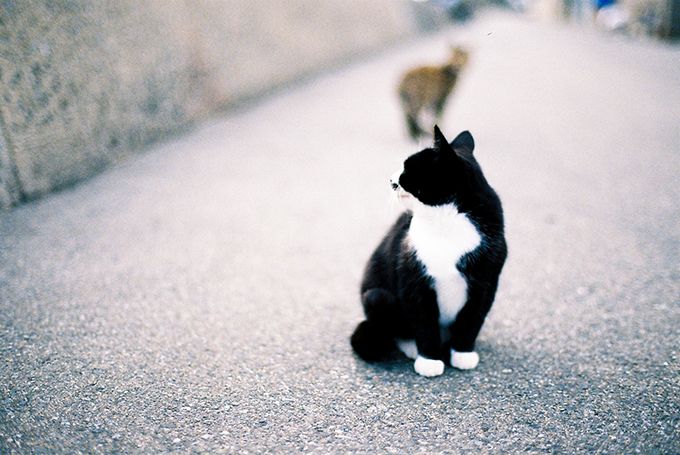 Gotcha!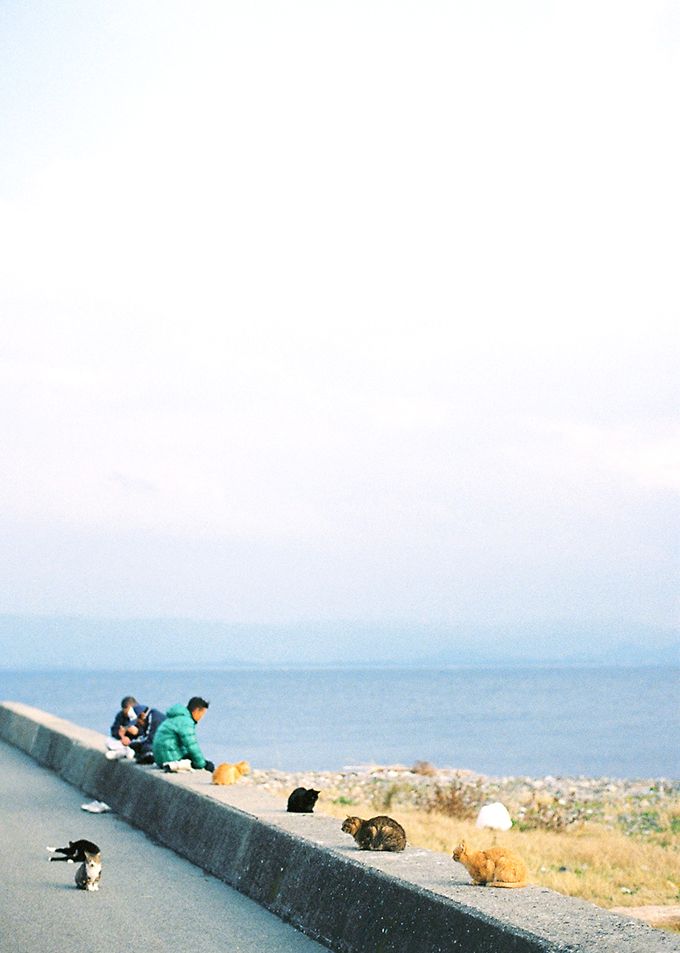 Monday afternoon chillin' on Ainoshima.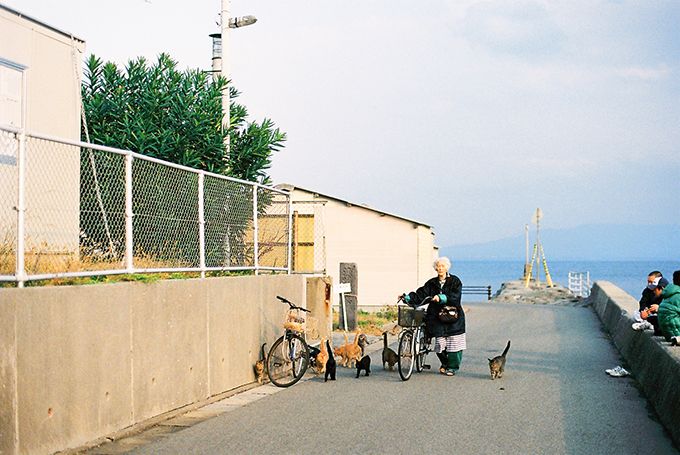 Of course, I guess EVERY cat island would have to have its resident Old Cat-Granny who feeds them daily. This was definitely her. And guess what they ate? Bread.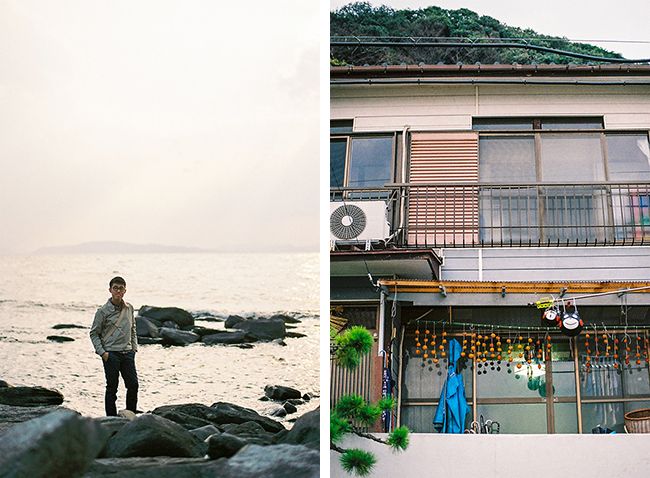 While Donald busied himself with all those cats, I decided to take a walk along the pier. It was nice to see kids around though there were only a few of them.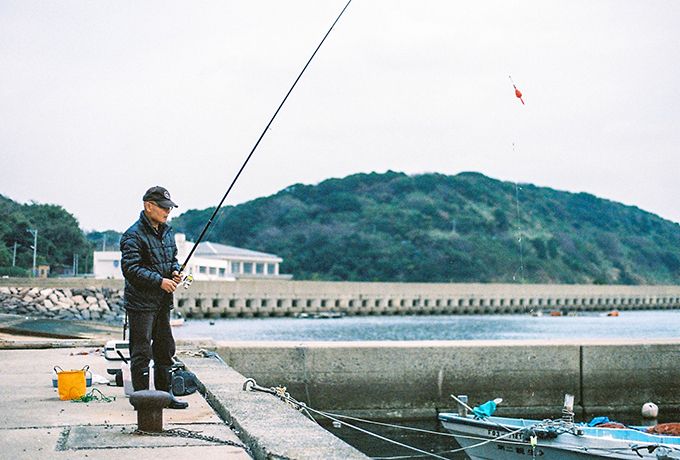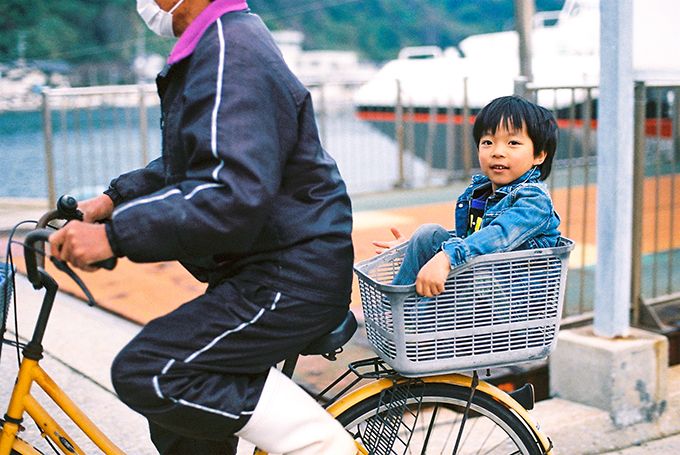 Heh. Cute little boy.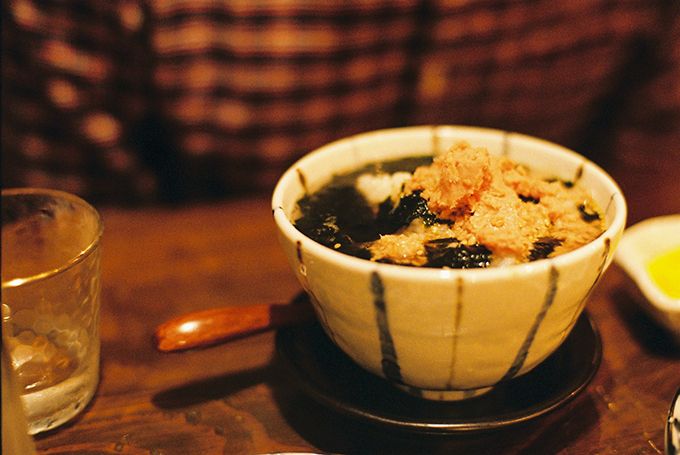 At night? Another random Izakaya near Hakata Station after a trip to Yodobashi Camera, which is a huge-ass store full of well, EVERYTHING. If you haven't been into one, you should. Because while it has Camera in its name, it's not just a camera store. It's your electronics haven + cosmetics + cameras + phones + home appliances +....clothing maybe? I wouldn't be surprised if there was a level of clothing that I missed out on because it's huge. And there are outlets in every major city it seems, so do go check out your nearest one in Japan. And yeah, more chazuke for dinner. I love it so much. This one had nice salty salmon flakes. MMM.

Can't believe it's been a month since coming back! Feels like the trip was a longgg time ago. For anyone who's still wanderlusting after Japan, I would definitely recommend watching some Begin Japanology on youtube for all things Japanese. ;)

xoxo