Hi everyone!! How's it hanging? :)
Just came back from one of the BEST trips I've been on yet!! Went to Japan with Donald (who just happens to be the best vacation planner ever...plus has some wicked internal GPS thing going on inside his brain) and it was such awesome fun. Of course, I think there were occasional tiring bits but isn't it often the case that when you look back on things... they're often better with the benefit of hindsight?
I don't think I've done an actual travelogue of one of my trips in a long time but since everything's still fresh in my mind... why not? :D
Day 1
This time we spent most of our trip traveling around Kyushu with an additional 1.5 days at the beginning in Tokyo. Flying via Japan Airlines, we decided to get a flight to Haneda Airport rather than Narita Airport in Tokyo.
I must say that Haneda Airport is DA BOMB. Seriously. Everyone knows about Narita Airport but its lesser known cousin should totally be forced into the limelight that it deserves. It's one of the best airports I've been to. Ever!! It's definitely a lot smaller than Narita Airport but it's got everything. And we only found this out on the way back but it has an AMAZING selection of food INSIDE the departure area! Most places reserve their best restaurants for the public spaces before going through the departure gate so that it'll be accessible to the general public but Haneda Airport has a really great variety of food in the food halls near the gates. Just so you know. No need to rush to eat your food before going through the departure gates. We had gone for some incredible Udon at a restaurant called
Tsurutontan
(highly recommended) then after checking in and heading towards the gate, we came across an awesome food hall which featured things like... Ryokurinsha ramen, another very famous ramen restaurant in Tokyo. So there is good food everyone in Haneda Airport.
MMMM. The smell of freshly baked bread.
Travel Tip #1
: (Or maybe I should label it as Donald's Travel Tip because it really was his idea ;p He'll always give me grief for having doubted that in the first place): If you're going to be staying in Tokyo for a short period of time (like maybe 1-2 days) before traveling off to someplace else, consider stowing away your main luggage at the storage lockers in the airport. They come in either small/large sizes but for the large one that we took, it was about 500 yen per day. The benefit of using that is that you can then take a smaller travel bag with your overnight items to bring along to wherever you're staying so at least you won't have to struggle with carrying along some ginormously heavy luggage through the Tokyo subway system which, while extremely fast and convenient, also has a serious LACK OF LIFTS. It's quite tiring climbing up all those stairs and honestly, I didn't really spot many lifts at all. So just imagine the absolute pain of carrying major luggage up and down stairs...unless you're a masochist or budding body builder.
On the first day, we were a little ambitious in trying to squeeze in a ton of things since we had only allocated ourselves 1.5 days in Tokyo. Immediately after touching down, we headed straight to for a flea market at Oi-Kebajo (at a race course area). It was definitely interesting in terms of how there were lots of second hand items ranging from more practical things such as cutlery/electronics/games/toys/clothing to...rather rare objects such antiques/handicraft tools/parts of equipment that I can't imagine anyone without some form of specialized knowledge getting from there. That said... I did get a second hand Olympus Pen film camera and managed to bargain it down with my half baked Japanese to 2000 yen! X) (ok only down from 2500 but... it was a moment of pride for me). Didn't manage to use up the roll of film yet so will share it hopefully in a few weeks after I finally finish it.
Nice. Hat. Yoz.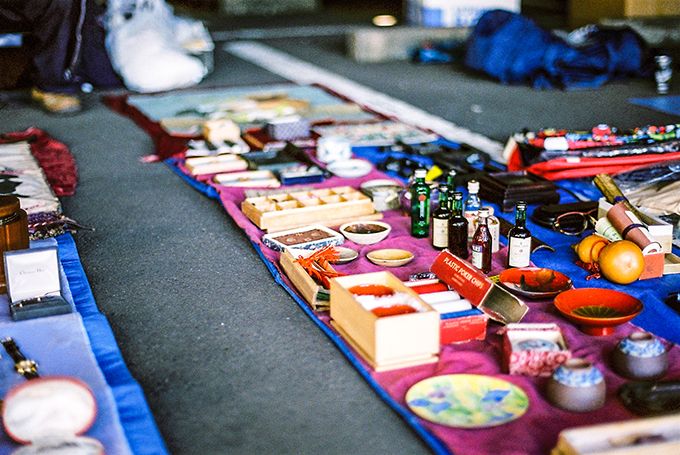 All those knick-knacks!
Next, we headed over to Daimon which just happened to be on the way to the place we would be staying at.
Had some really decent Kaizen sushi don. I love how even if you don't make any plans/reservations, chances are that 9/10 of the restaurants you walk into in Japan will have a really decent standard of food.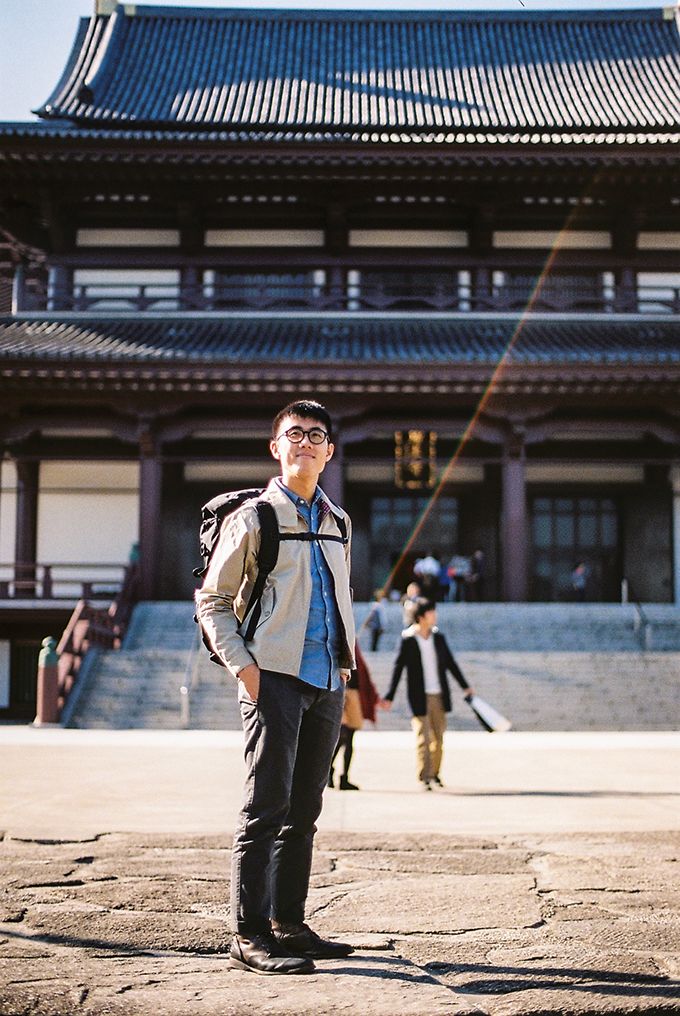 I had no idea that the Tokyo Tower was in the Daimon area! So we headed over there just to take a long and along the way, stopped by the Zojoji Temple.
I think there could've been some ceremony or celebration going on because there were quite a few families dressed up in traditional wear. Aren't the kiddies cute in their beautiful mini kimonos? :)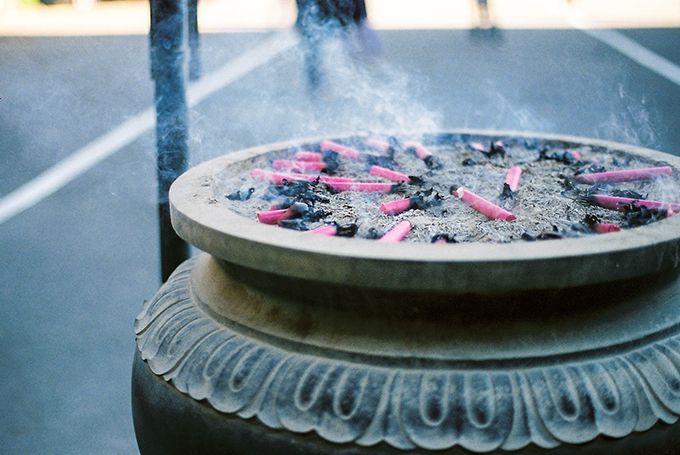 Next, we headed to one place I deliberately put on the list because it is simply...sublime.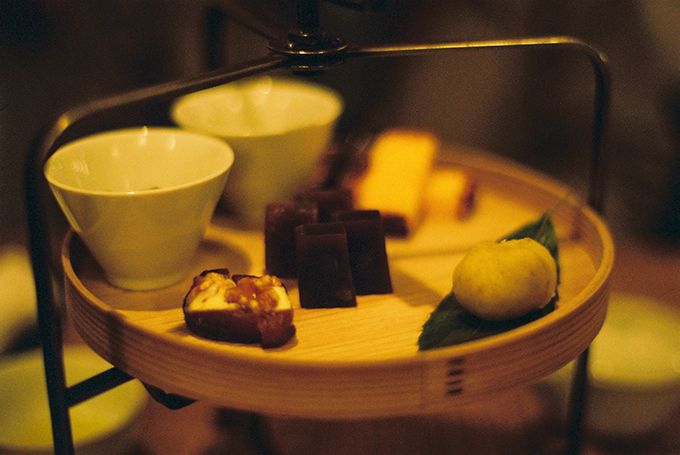 Ori Higashiya a one of the most gorgeous shops I've been into. It's a traditional confectioner selling seasonal wagashi sweets and also provide set meals and tea specials. It's got a fantastic ambience - genteel, quiet, refined... just the sort of place I'd love to go to every weekend to meet up with my girl friends for tea or even to just relax with a book in hand. It's part of a group of house brands that are the brainchild of the brilliant design studio, Simplicity, who come up with the most incredible interiors for their shops which seem to exude timeless elegance with Japanese roots. The one I've gone to is the Ori Higashiya restaurant/teahouse in Ginza but apparently there is also Higashiya Man, selling Manju which I'm dying to visit one day. The photo doesn't do it justice at all! Still trying to take better film shots in low lighting but I would highly recommend checking it out for EVERYTHING. Even their toilets.
I've just discovered their portfolio online and am going to be spending awhile going through those gorgeous photos.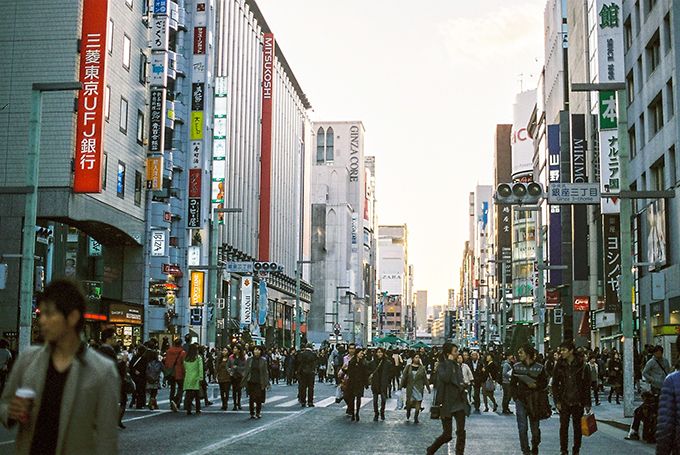 Ginza on a weekend evening is so pleasant to walk around at.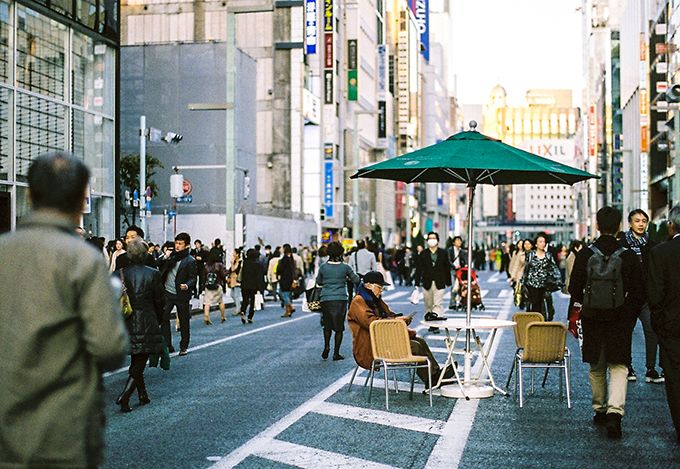 Moments of quiet in a crowd are always within reach.
So, those were the highlights for Day One. More to come soon! I need to keep at this while I still have some steam and a relatively good work schedule for the month.
Xoxo