One of the best parts about our Taiwan trip was the cafe-hopping. Honestly, I LOVE cafes. :) I could spend all day in a small, cozy, quaint cafe, attempting to make my cup of tea/cappuccino last as long as possible while reading, daydreaming...or simply enjoying being in a perfect little space for a few hours. Siang, our main researcher for the trip, came up with a list of awesome cafes (most of which were also featured in the Monocle Taiwan Travel Guide :D) and first on our list was 巢 or Nido Cafe in Taipei. We went after the morning of Jiu Fen so by the time it reached the evening, we were all ready to relax and veg out in a cafe. Problem was, we didn't exactly know how to get to the cafe from the nearest mrt station. We knew that it was off the main road of Zhong Xiao East, but turns out that it's a friggin long stretch of road. We ended up passing by TWO WHOLE SUBWAY STATIONS as we walked all the way down that loooong main road, counting down the alley numbers until we reached the one we were looking for. That was not the best experience ever. -__-;; But it was worth it in the end, because it was such a lovely quiet cafe (that is, until we barged in and wreaked havoc with our riotous laughter) with many many gorgeous nooks and crannies that we oohed and ahhed over and took many photographs of. :)
According to the owner, Nido stands for Nest in Spanish (if I remember correctly...or was it Greek?) and it was then that we realized much of the interior decor was meant to resemble the twigs/texture of birds' nests. Notice the texture of the table?
We ended up staying there for agesssss. We were given a "private room" (well more like a private section of the cafe) probably because there were so many of us. It was nice and warm at the start but after awhile we realized the heating in that particular room was really POWERFUL. At the start it was just us in the cafe and we were having such a great time chatting and laughing (possibly in our boisterous Singaporean manner) that the owner of the place actually came into the room to tell us to quieten down as there were other customers in the cafe that we weren't aware of. WHOOPSIE. ;p
Cappuccino! Pretty average cup but it's really the ambience that you'd pay for I suppose. We all took one look at the dollop of cappuccino art and wondered if it was because the owner (oh yeah, did I not mention that there's only ONE guy running the entire place and doing everything?? from making coffee to serving desserts etc etc) was a beginner and hadn't yet learnt any other patterns for his cappuccino art. :p Next time we're going to go back and see if his cappuccino art making skills have improved.
Cheesecake on the left and tiramisu on the right. Both REALLY REALLY good. :) The cheesecake was excellent and it had a cool name like ... Cheesecake on Cheesecake. Or something to that extent.
Our *ahem* Lovely Ladies pose.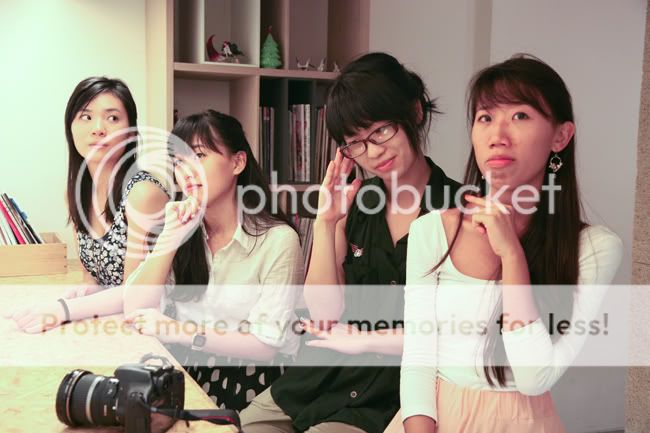 Our attempts at looking PENSIVE. ;) ROFLMAO.
I just
looooove how there are so many whimsical spaces in the cafe that are so beautifully decorated. I'm hoping my house will be like this next time. All wooden-y and cosy with soft lighting and beautiful spaces. That's another plus point of cafe hopping really. You get to see all these examples of gorgeous interior design and get inspiration for the future.
So if you're in Taipei, I'd highly recommend:
10, Alley 22, Lane 553, Zhongxiao East Road Section 4, Taipei
Hours: 2:00pm ~ 12:00am (closed on 6th, 16th and 26th of the month)