Last Saturday morning was awesome. :) I managed to sleep in and went for a fantastic brunch/lunch at Carpenter and Cook with a friend - a place I'd been dyinggg to visit after reading about it in the Business Times a couple of weeks back! (Yeah, to tell you the truth, my dad had been trying to show me another article but what I got out of that day's papers instead was the knowledge of this great cafe. :D) It's a vintage furniture store started by three very brave and enterprising women (and their supportive families I can imagine) that doubles as a cafe, with home-made sandwiches, tarts and other pastries. It's a unique concept, cosy, curated with one-of-a-kind furniture and vintage bric-a-brac, and comes complete with tasty treats. What's not to like?? So I dragged my friend, Feifan, there for brunch on their official opening day.


Left: Check out their collection of very quaint tea cups. Makes me wish Singapore's weather was cool enough for weekly sessions of tea-sipping outdoors in a garden. But that's so not going to happen anytime soon.
Right: Our pomegranate and oolong tea. :D If I remember correctly. I remember the combination being really good and healthy sounding.

It took ages to decide on what to order because everything looked so delish. After some recommendations from the friendly staff behind the counter, we settled on a quiche and ham brioche for the mains.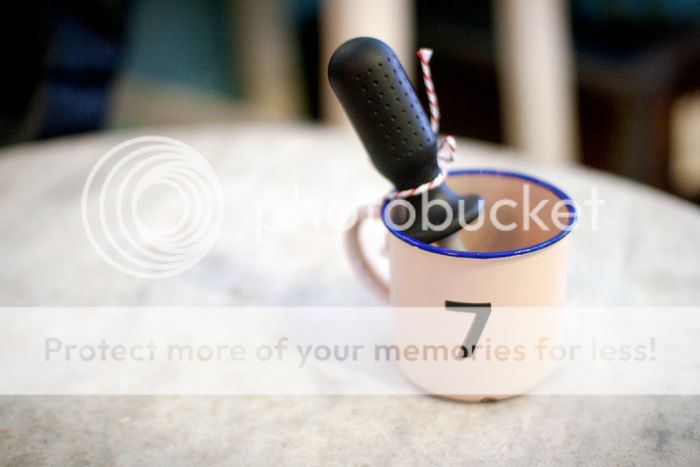 Funkiest table number? We spent a while examining it with our hands like curious kids.




My ham brioche was really tasty! :) I like how the sweetness of the brioche bun contrasts well with the saltiness of the bacon. And it's light enough for anyone to have room for dessert after (which is probably THE most important thing to remember).




Ham and mushroom quiche for Feifan.




I wish I could've ordered EVERYTHING for dessert because there were so many choices that all looked SO good. Above, earl grey cream, which was a super light, delicious dessert! I'd never tasted anything like that before and it's almost like an earl grey mousse. Very light, very palatable. Apparently we were lucky since it was the first time the chef was serving it to customers.




Lemon tart! It's hard to go wrong with this dessert. We had initially wanted to try the GRAPEFRUIT (edit: oopsie! I got the fruit mixed up ;p) PASSIONFRUIT MERINGUE TART because it was highly recommended by the staff. But as we hadn't reserved it/ordered it the same time that we ordered our mains, by the time we were ready to order our desserts, it had SOLD OUT. It's a major hot-seller apparently! So if you're there, I'd recommend nabbing one before it's all snapped up. :)


(Feifan, the budding seamstress, unearthing a gorgeous Singer sewing machine)
How cool is that Singer sewing machine? One of the things I really want to do after I graduate and have more time (that just sounds like an oxymoron to me) (but well, EVENTUALLY... after the initial crappy years) is take up sewing. :) It's a dream of mine to be able to sew a really pretty dress that fits perfectly and has a cool, unique (possibly polka dotted) print that I can wear everywhere that will be admired by all. And when they ask where I got it from, I'll say, I sewed it!! And wait for that look of disbelief. HARRR. It's good to have things to look forward to.



At first glance we thought that was a typewriter... but it's actually a really old cash-register, no? :)
The best part about the day was receiving our tea on the house! :D It was part of their opening day promotion - anyone dressed in 'Vintage Chic' would stand a chance to get free coffee/tea. And actually I thought I'd sort of forgotten about that while ordering (rows and rows of freshly baked pastries does something to your brain) but after we got the receipt, we realized that tea had been on the house. That was probably the best bit. :DDD Looks like we dressed vintage enough!



I can't recommend this place enough for pretty much any meal of the day... breakfast/brunch/lunch/tea, you name it! Except for dinner, unless you don't mind eating something light like sandwiches/brioches/quiches for dinner. That said, maybe they have a separate dinner menu? :) I'd love to go back another time later on in the evening...SOON!
Singapore, Singapore 598120
Check out their website HERE.
It's a very friendly little independent establishment. The staff are enthusiastic and the one of the owners (and the chef's husband) even came up to chat with us a little. :) Which was nice. It's always so nice to go to a place that's personable and cozy. And they knew how to use a DSLR camera. BIG PLUS. I hope enough people buy the vintage furniture and accessories though, because they were on the expensive side and understandably so, given that they're one of a kind items all the way from the UK. And some of the items that I saw are the sort that are only good for display at home because they don't actually work (think cool clocks/typewriters). Then again, given how great the food is, I have no doubt they'd be able to flourish even as a cafe alone. It's so great to have another cozy, independent cafe to visit.